I have always been a sports fanatic with hurling being my number one sport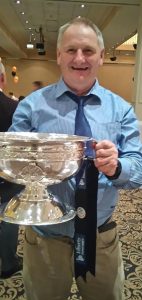 of choice.  Being involved in Kilkenny hurling was always my ambition and my aim is always to be the best I can and reach the highest level possible. However, it was soccer that grabbed me competitively first. I started playing primary schools soccer in 1973 as an 11 year as a centre half for Our Lady & St. Teresa's.  I have been a lifelong Liverpool fan, through the good times and the not so good times.
I played my first hurling match in 1975 at Under-14 (Scored 4 goals in my first championship match and still ended up on the losing side) and having progressed very quickly I was playing club Under-21 by 1978 while still under-16.  I played competitive GAA for 20 years and soccer for over 30 years as well as periodic spells as Manager and Coach with various teams in both sports.  I played at all levels for Windgap in Hurling and Gaelic Football, including one match at senior hurling in which I scored a goal to give me a "goal a game Senior Championship Hurling record". I went on to play Hurling and Gaelic Football for Kilmore in Dublin for a short period before finishing my playing career with Piltown.
After a short break, I took up coaching with Piltown juvenile teams and even the club senior Gaelic Football team. Later I progressed to be a Kilkenny Under-14 Development Squad hurling coach and subsequently manage. I have had the good fortune to be involved in Tony Forristal (A) and Sonny Walsh (B) All-Ireland winning teams at under-14. During COVID, I added the Under-15 Adrian Murray plate title as Kilkenny beat Waterford. I also took on coaching/manager roles in Under-14/15/16/Minor Gaelic Football at county level. In fact, I was manager of the only Kilkenny minor football team to win a competitive match in recent times. (U16 Manning Cup v Waterford).
In Ladies Gaelic Football I've coached at both club and county level from Under-12 to Minor. I did a spell as Piltown Junior Camogie coach back in the 80's.  In a nutshell I have coached Hurling, Gaelic Football, Ladies Gaelic Football and Camogie, all the major GAA sports. I have done numerous coaching courses including GAA foundation, Level 1 and SAQ as well as a two year course in training an athlete to international standards in Waterford I.T. I am Garda vetted and have done a number of courses on Children Best Practice in sport and sports psychology .
Over the years, I took on many voluntary administration roles. From club chairman to PRO to Coaching and Development roles where I have always put my organisational skills to the fore.
Of the other sports, I also love Horse Racing, in a particular National Hunt and I love the spectacle that is the Aintree Grand National. Other sports I have tried competitively over the years are athletics, cricket, handball, racquetball, snooker and darts.
My wife Sheila, and my three children, Jennifer, Jamie and Lisa are all intrinsically involved in the GAA as players, coaches and administrators and all have been successful in their own right with all three picking representing  the county in both hurling and football and winning All-Ireland medals at various grades.  Meanwhile Sheila was a very successful chairperson and secretary of Kilkenny County Camogie board and is a brilliant administrator. Click on button below for my Sports Curriculm Vitae